Two years ago, today, my life changed.
This has been a very rough week for me, anticipating what today signifies. While I am beyond ecstatic for our friend Gracie that will be ringing the bell today. Today also brings back the scariest memories of my life. I am crying as I type this.
Two years ago, today, I heard the words, "Your child has cancer!" I felt like I was hit by a mac truck! I would have much rather heard those words about myself. I can still remember how Dr. Adamo told us. Logan went in for a follow up MRI on Wednesday March 8, 2017. Just a couple of months prior he had an MRI, and everything looked great. I knew something was different this day. Dr. Adamo waited for the nurse to close the door behind her before he would even mutter a word or even look at us. The nurse closed the door and the look on his face said it all…." it's a tumor" and my first question was "is it benign or malignant." To my horror, he said malignant. They found a malignant tumor, a third of the size of Logan's head!!!! My heart dropped, my eyes welled, and I immediately went into fight mode! What do we do? Let's fix it! This is NOT an acceptable situation…. make it better! Make it go away! It was the WORST day of my life! Logan was immediately rushed to PICU (pediatric intensive care unit). More nurses, more doctors, more of the unknown. Dr. Weintraub called for a family meeting and said, "I'm so sorry, your son has a glioblastoma, there's not much we can do." SHEER HORROR!!! I waited until I was 40 to have my first child and this was NOT an acceptable outcome for his life (or mine!).
I never relied more on the power of prayer than I did that day. I remember posting on Facebook that Logan was admitted for more testing and that we needed prayers. They did a biopsy on the tumor and sent it to Boston, New York City and Atlanta…the three other top children's cancer hospitals on the east coast. Two days later they came back and said it was a Congenital Glioblastoma and they were 'cautiously optimistic!' The second I heard those words, I ran with it. That's it, we can fight this, we will beat this, we got this!!!!
Fast forward to today…. it's hard, it hurts, it's surreal and bittersweet! The one-year anniversary of his diagnosis was for lack of a better word, exciting! Weird, I know. But it's like "Holy crap!!! We made it a year!" But now, the two-year anniversary is more like "holy crap, we made it through two years." I know you can't hear how I am saying it but let me explain to you the difference. The one-year anniversary was like OMG, this is amazing, they told me my son wouldn't survive and we have made it a year. How exciting!!! Whereas the second-year anniversary is more of a holy crap, I've been doing this for two years…this sucks! This is our life. Ugh. Another day. Another month. Another year.
Now, I know some of you reading this are probably like, well why isn't she happy that her son is cancer (and treatment) free two years later. Here's the thing…. I am BEYOND grateful for my son being cancer and treatment free and yes, ALIVE!!!! But the reality is, I have PTSD, I am grieving the loss of having a "normal" child, "normal" milestones, etc. And yes, I put normal in quotes because it's subjective. But when you wait until your forty years old to have your first child and you are thrown curve ball after curve ball after curve ball…. it's FUCKING HARD!!!!!!!!!!
Yes, I am strong. I don't like being upset, I don't accept defeat. That's why my son has made it this far, because of my husband and me. We don't accept the worst-case scenario and believe in the power of prayer and positive thinking. Logan dying was NOT AN OPTION! It's still NOT AN OPTION but it's ALWAYS in the back of my head!
I don't talk to anyone about how I feel because I don't want to be judged and quite honestly, no one truly understands! If I tell someone how I feel…like I wish he was normal or walking, talking, or eating the first response I get is; well, "he's cancer free!" NO SHIT! I know this but that doesn't mean I don't want or crave or wish for "normal." Logan not only had to beat cancer, but he now has a lot of obstacles and delays to overcome. And YES, he WILL overcome these delays but, again, that doesn't mean I don't mourn "normal." I just want my kid to walk and talk and eat like any other almost two-and-a-half-year-old does.
Do you know what it's like to go to an event, whether it be a birthday party, family event, sporting event, etc. and have to keep your child in their stroller because they can't walk!?!? It FUCKING SUCKS!!! Logan turned two back in November and he's not walking yet….it breaks my heart. It kills me that my kid can't walk. But do you know what I do….I make sure his therapy sessions still happen, I practice walking with him, we do exercises and everything else necessary to help with his development! I HATE IT! Yes, I have NO DOUBT that Logan will catch up with walking, talking and eating but that doesn't mean it doesn't hurt or that I don't want "normal."
Wanting "normal" has NOTHING to do with being or not being grateful! It's wanting what you have dreamed about your entire life. Having a healthy baby that grows and develops "normally." And yes, I will keep using "normal" in quotes because I know the response…..nobody is "normal." Yes, I know this but that doesn't mean I don't want it. Trust me, I'm not "normal" and have you met my family and friends!? LOL
My point is, is that PTSD is real, mourning the loss of something you always wanted and don't have is real. And it sucks.
I LOVE my son more than anything else in the world. Being a cancer mom is one thing. Being a cancer mom to a developmentally delayed child BECAUSE of cancer is a whole other ball game! And I guess I'm the pitcher…. Logan is doing SOOOO well and WILL overcome all his delays.
I have every right to feel how I do, and I don't need a pep talk. I don't need "well he's cute or he's cancer free or he's this or that" …. sometimes I just need a yeah, you know what, it does suck. What can I do? Or ask me how I am doing, not just Logan or my husband. What about me!?!?
And P.S. thank GOD my kid is cute…I swear it's his saving grace at times!
Cheer's to another year!?!?
#LoganStrong
#PuckCancer
#tinysuperhero
#PrayerWarriors
#MamaStrong
#StrongasFogg
This was the day Logan was diagnosed March 8, 2017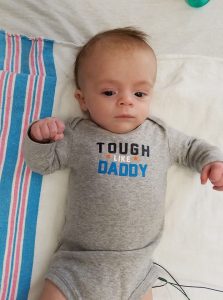 and today March 8, 2019